Hi,
I'm feeling quite patriotic tonight when writing this week's blog. There are loads of reasons to visit Scotland, after all how many places are there in the world where you could get sun burnt and build a snow man in the one week? As well as being the home of Robert Burns, Sean Connery and Andy Murray, it's also down to Scots that we have the television and the phone. If that's not interesting you then hopefully my top five reasons to visit Scotland will convince you that it's worth a visit.
Number 1- Glasgow
There's a famous saying here that "People make Glasgow" and I think it's a fitting advert for this brilliant city. There is nothing better than a day out in Glasgow, it's always buzzing and Buchanan Street is always full of shoppers, tourists, music and twinkly lights (even when it's not Christmas!) Because Glasgow is my home I sometimes take for granted just how beautiful the city is, how can this not take your breath away? If you are looking for a bit of culture then you will find it in more than one place as there are several museums to choose from, but my personal favourite is Kelvingrove art gallery. Not only can you look at the wonderful displays  but twice a day you are treated to a free recital from the famous organ. Here is a clip of Kelvingrove's tribute to David Bowie in January https://www.youtube.com/watch?v=m_Tq8w-akNM

Number 2- Edinburgh
Edinburgh is our capital city and has a magical feel to it. It's a place steeped in history and a visit to the castle is a must. The Royal Mile, which connects Edinburgh Castle and Holyrood Palace where our Scottish Government sit is always worth a visit. Littered with shops, bars and restaurants there's always something to do here. During the summer months, you will find The Edinburgh Festival which attracts new and upcoming artists of all forms of arts from across the country, making the city one of the most exciting places to be in the world.  However, my favourite time of year to visit Edinburgh is Christmas time. The markets will leave you full of Christmas spirit and a trip to the dome to see their spectacular Christmas tree and decorations will finish off your day in style.
There is one "to do" in Edinburgh I am still to tick off my bucket list. I am a massive Harry Potter fan, it is my favourite book series and I honestly think I have read them at least one hundred times! JK Rowling booked herself into room 552 at the Balmoral hotel to finish The Deathly Hallows book. The highlight is a marble bust of the Greek god Hermes on which she scribbled in black marker: «JK Rowling finished writing Harry Potter and the Deathly Hallows in this room (552) on 11th Jan 2007. However, to stay in this historical and now famous suite for only ONE night, will cost you £965! I'll start dropping hints to my husband Stephen now!
 Number 3-The Scenery
Scotland is a truly beautiful country. Wonderful landscapes and breath-taking scenery. I'm ashamed to say that I've not seen nearly enough of it. Perhaps one of the most iconic destinations in Scotland is Loch Ness known all around the world thanks to the elusive monster Nessie. There have been rumours of the beast dating all the way back to the 7th Century. You can experience Loch Ness by taking bus or boat tours allowing you to relax and enjoy the beautiful views from the comfort of a viewing deck.
I am a city girl, I'm not made for the countryside. However, the one exception is when we visit Nora in the Black Isle in Inverness. If you are ever coming to Scotland and want a trip to the highlands then you need to put this on your list of places to visit. A beautiful cluster of little towns and beaches. I take my girls on little holidays and they absolutely love it, and with beaches like this, why would they not?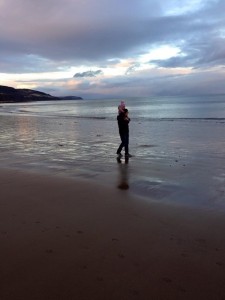 Number 4 – The Food
I love going on holiday, who doesn't?  Especially if it means getting a chance of some guaranteed nice weather and some relaxing family time but the one thing I always miss is some of the Scottish food! I must admit, I'm quite fussy and despite the fact I'm 26 and have lived in Scotland my whole life I have never eaten haggis (but both my dad and husband absolutely love it!) and I've never seen a deep-fried mars bar never mind eaten one (you couldn't pay me enough!) There are some things you just can't replicate or replace! Why would you not want to start your day with a roll with square sausage and potato scone? And there is nothing better than steak pie for your Sunday dinner. Sweet tooth? Then you need to snack on some shortbread or tablet and there's only one thing you can have to wash it all down, a cold can of irn bru. I promise it'll cure the worst hangover and tastes amazing!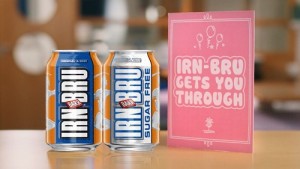 Number 5 – A party
We Scots love any excuse for a party, after all, our New Year's Eve Hogmanay party is world famous. My family love a celebration, in fact I'm pretty sure my mum managed to make her 50th birthday celebrations last the entire year! Should you ever get invited to a ceilidh then your answer should be a yes! It's the most energetic and fun dancing you'll ever do. My husband and I got married in January 2014 and the dance floor wasn't empty once. My brother in law is English and this was his first experience of a proper Scottish "knees up" and his review was that dancing in Scotland just contains a lot of jumping and shouting and to be honest, it's a pretty accurate summary. If we aren't dancing to the Gay Gordons, https://www.youtube.com/watch?v=8DizrIpehgE then we are definitely dancing to proclaimers 500 miles and finishing our celebration in real Scottish style with "Runrig" https://www.youtube.com/watch?v=CHu0h9XaNcg
So there we are. Scotland quickly summed up. I hope I've convinced you it's worth a visit because there really is nowhere like it. Have you visited Scotland before and have your own highlight? Share with me if you do!
Gemma xoxo